Who was Bertha? And how did she know Ben?
Ben Nicholson's painting 1924 (bertha no. 2) is displayed prominently at Kettle's Yard. It depicts the head and shoulders of a young woman, Bertha. She is painted larger than life-size with an emphasis on strong sculptural forms and planes that give her sense of solidity and monumentality.
While we know a lot about Ben Nicholson, we know nothing about Bertha. Who was she? How can we tell her story? And what happened to Bertha No. 1?
Eliza Spindel, Curatorial Assistant at Kettle's Yard, tells us more.
More information
1924 (bertha no. 2) by Ben Nicholson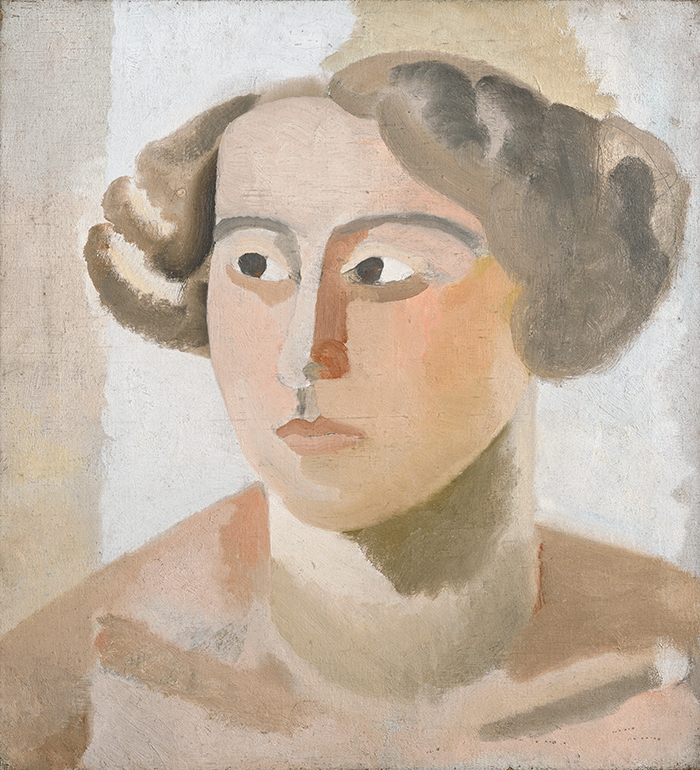 The painting displayed in Kettle's Yard

Gallery label text
The title of the painting, inscribed by Nicholson on the back, suggests that it is a portrait rather than a generalised head. The sitter, however, has not been identified. Nicholson's handling of the paint is here simple and swift. An off-white ground, still visible in places, forms the base for the urgent preliminary drawing. In both scale and execution, the artist seems to be making deliberate references to Renaissance frescoes. The head is larger than life and the bare shoulders would establish a massive body if projected beyond the canvas. Even the isolation of this detail recalls the way in which fragments of fresco were removed and framed. This is consistent with the growing appreciation amongst London art circles for the so-called Italian 'primitives'. In this work their simple style and palette came to be combined with a solidity and faceting of the figure derived from Cubism.
Painting [BN 1]
Displayed
Oil and graphite on canvas
610 x 560 mm