In June 2020, the Museum Remix: Unheard project challenged the world to creatively interpret nine objects in the medium of sound.
Journey with us to the windswept Arctic, hear silenced figures given voice, and listen to the ballad of an unsung quarryman...
Watch guest curator Marenka Thompson-Odlum present her favourite submissions
Listen to the full playlist
With grateful thanks to:
Marenka Thompson-Odlum, Giulia Gambino, Maxine Fay, John Hodgson, Lewis Harrower, Andrea Elder, Laura Grace Simpkins, Miriam Waters, Theo Sayers, Liz Hide, Izzy Collie-Cousins, Tae Ateh, Fern Teather, Sam Thurlow, Katy A. Whitaker, Tristram Riley-Smith, Steven Goodwin and Sara Green.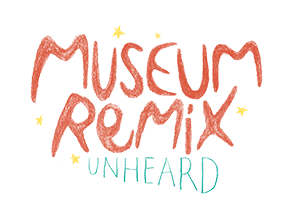 The header image for this page is an extract from The Museum of Life, an artwork produced for our 2019 Museum Remix project.