A Letter to the Director of the Fitzwilliam Museum (2019)
Film, cardboard, gouache, split pins, wire, original text from letters in the Fitzwilliam archive
This animation reimagines a portrait by Edmund Dulac of artists and life partners Charles Ricketts and Charles Shannon. The pair are depicted as medieval saints.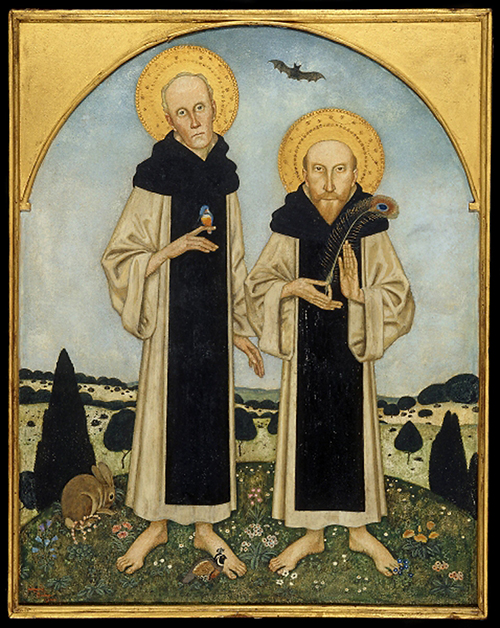 Charles Ricketts (1866-1931) and Charles Shannon (1863-1937) were important members of the artistic world at the turn of the 20th century, with Edmund Dulac and Oscar Wilde among their friends and collaborators. Together, they assembled a remarkable collection of old master drawings and paintings, Egyptian and Greek antiquities, Japanese woodblock prints and Persian miniatures. On Shannon's death in 1937, a large part of their collection was given to the Fitzwilliam Museum.
The animation references a letter by their friend Thomas Sturge Moore to the Fitzwilliam Museum's Director, requesting that the bequest should be in both their names.
"Dear Sir, My friend Lowinsky has asked me to write to you to enclose his request that on the inscriptions attached to the many works of art left by my friends Ricketts and Shannon both their names should appear and not only Shannon's who happened to die latest. The bequest to the Fitzwilliam was in both their wills though each left the whole to the survivor. [...] Their friendship like their collection was unique and they regarded its designation by their joint names as their monument."

From a letter to the Director by Thomas Sturge Moore, 24 October 1937
The animation was produced for the University of Cambridge Museums' 2019 Museum Remix by Jasmine Brady, Lucian Stephenson, Bruna Fernandes and Ana Dias. Ricketts and Shannon's story is told as part of the Bridging Binaries LGBTQ+ tours project.