Plates (2019)
Part of a dinner service depicting Queen Anne, Sarah Churchill and Abigail Masham. Pictured also is Queen Anne's husband Prince George of Denmark.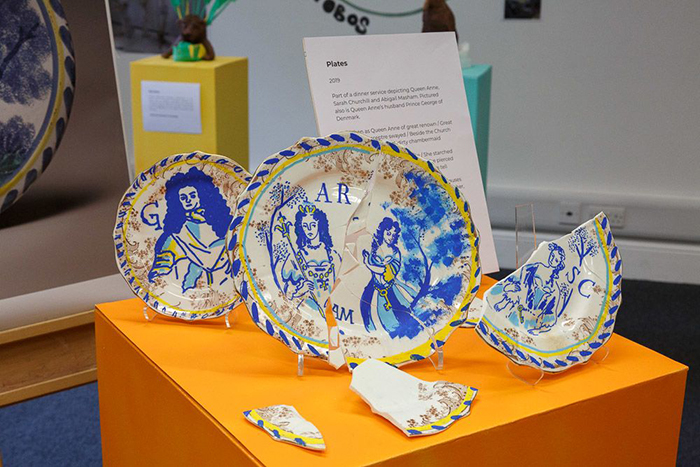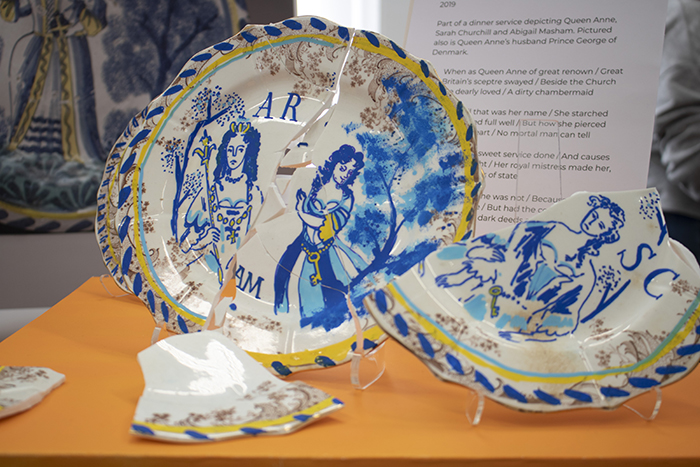 This artwork reimagines a plate in the Fitzwilliam Museum's collection depicting Queen Anne (1655-1714). Anne was written about unfavourably by her former lover Sarah Churchill. These memoirs were remembered as fact long after her death - until recent historians looked into other accounts of her reign. How do we decide whose stories become historical fact?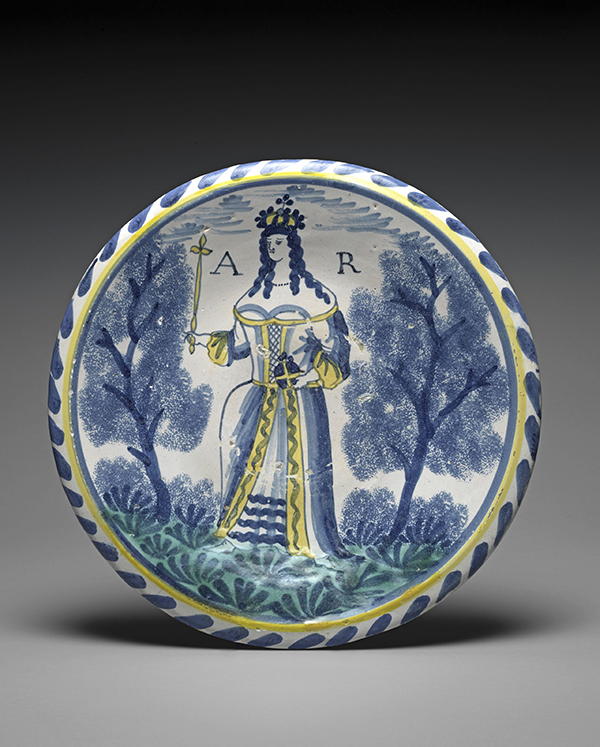 The story behind the artwork
The artwork was produced for the University of Cambridge Museums' 2019 Museum Remix by Jasmine Brady, Lucian Stephenson, Ana Dias and Bruna Fernandes. The original Queen Anne plate features in the Bridging Binaries LGBTQ+ tour programme. 
Jasmine Brady, Bridging Binaries tour guide, explains all...
In the gallery at the Fitzwilliam Museum, the plate is displayed next to several others depicting the rest of her (very interesting) family, the Stuart dynasty. Dinner services and crockery were a popular way of telling stories in the time of Queen Anne. We thought it was especially interesting that while all the rest of the Stuarts are presented as couples, Anne is alone.
 
In my Bridging Binaries tour, I tell the story of Queen Anne and her two most famous lovers, Sarah Churchill and later Abigail Masham, Sarah's niece, who supplanted her. I find the most interesting part of the story to be Sarah's rage when Anne stops being loyal to her. Reading about Sarah's character is fascinating. She spoke her mind, often getting herself into trouble as a result. She seemed to have a flair for taking petty and dramatic revenge: when Anne eventually dismissed her from the palace, Sarah stole all the brass locks from the doors of her estate. I also enjoy reading the poem that Sarah commissioned to blackmail Anne by "outing" her in a way. The best line: "When as Queen Anne of great renown Great Britain's sceptre swayed, Besides the Church she dearly loved a dirty chambermaid".

To create the artwork... we smashed plates! First of all we painted the plates in the style and colours of the original (though with Posca pens rather than actual tin-glazes) using paintings of Sarah Churchill, Abigail Masham and Prince George of Denmark. We then smashed Sarah and Anne's plate, and replaced Sarah with Abigail using the tried and tested method of scotch tape to piece together broken ceramic.